Medicare/Medicaid Rules Block Hospital Microgrids
According to a recent article published by Microgrid Knowledge dated December 21, 2022,  US Sen, Edward Markey, D-Mass. believes that the Centers for Medicare/Medicaid Services regulations for hospital backup power are out of date. 
Markey explains that the current rules force hospitals to utilize diesel backup generators as their source for power generation during utility interruption. Cleaner alternative energy options (i.e. microgrids) are not permitted to substitute for diesels…yet. 
In his December 16, 2022 letter to the US Health and Human Services Secretary Xavier Bererra, Senator Markey urges change to the current electrical code, dating back to 2011. The letter urges a waiver be put in place to accept new standards embracing the use of Microgrids in healthcare facility settings.
Why Microgrids Over Diesel Generators?
Diesel generators may be the traditional back-up power solution – well understood, reliable, and replicable. However, they have improved little over 100 years. They continue to have problematic emissions and other adverse environmental impacts as well as high direct and indirect costs. As fossil fuel resources become increasingly restricted, markets become more volatile, and environmental considerations take precedence, it seems likely diesels will need to be reconsidered as the sole possible backup power resource.. 
In contract, Microgrids are cost-effective, sustainable, safe, and resilient. By design, a microgrid is a combination of renewable energy generation combined with energy storage and SMART controls. They can operate routinely- slashing utility energy costs – as well as "islanding" during utility outages to ensure a facility can operate critical systems with minimal or no disruption.
Microgrids Being Already Successfully Used in Hospitals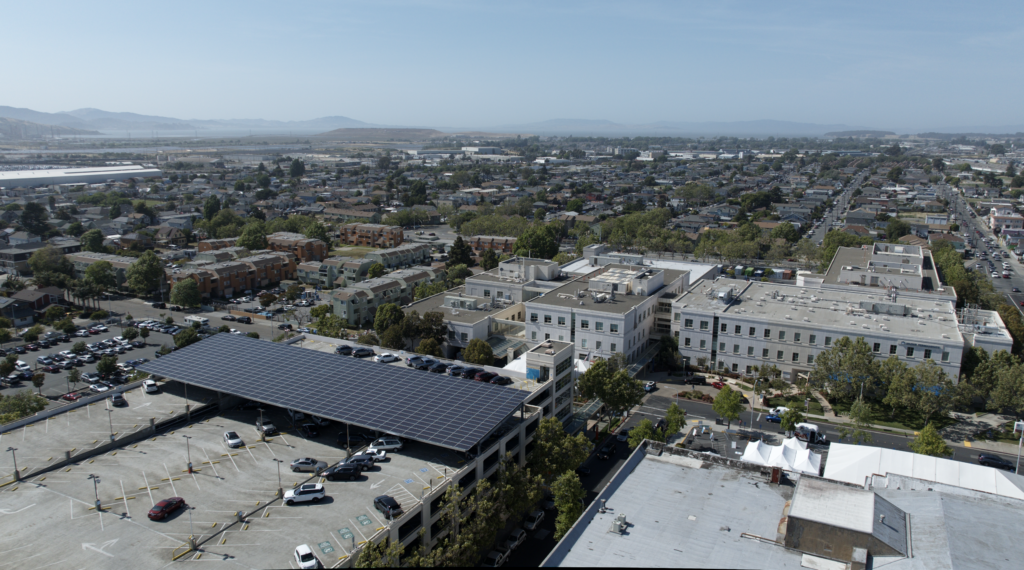 Senator Markey cited Faraday Microgrid's project at the Kaiser Permanente in Richmond, California as an example of an already successful microgrid project in a medical campus.  The follow-on Faraday project connecting a renewable energy microgrid into the Critical Power of the Kaiser Permanente hospital in Ontario, California will be the first to demonstrate the ability of microgrids to perform as reliably as diesel generators to support hospital operations. These projects have already led to changes in California regulatory requirements and National Fire Protection Association standards and similar changes are expected to enter the National Electrical Code. 
Hospital Inflation Reduction Act (IRA) 2022 Funding
Changes in funding and incentives for microgrids has opened the door to all forms of healthcare facilities to deploy them. The 2022 Inflation Reduction Act provides for significant tax credits and depreciation. Additionally, it even establishes a method for the Treasury to pay nonprofits directly for building microgrids. When this is coupled with grants, State incentives, and extraordinary amounts of private capital available to build microgrids, there is a diverse and profound amount of support for these projects. 
Read more on what standard changes Senator Markey has formally urged the US Health and Human Services HERE.