IRA Impact for Healthcare
What Inflation Reduction Act (IRA) Dollars Can Do for Your Facility and Your Bottom Line
Now Every Company with a Commercial Building (including Nonprofits) Can Get Paid when they Install a Renewable Energy System.
Building Resiliency and Sustainability are an increasingly important part of many Boardroom discussions.  At the same time, facilities have to find ways to cut operating costs and hedge against future increases, maintain operations under threats of electricity or fuel shutoffs, and achieve all of these things with as little capital expense as possible.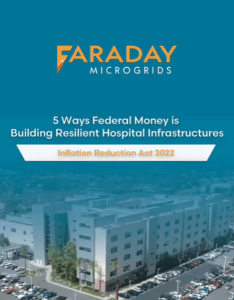 5 Ways Federal Money is
Building Resilient Hospital Infrastructures
Connect with Faraday to determine how you can maximize the IRA programs for your facility
Faraday Microgrids are the SMART Way to Take Charge of Your Energy Project
Integrating renewable energy into your commercial building or nonprofit can seem like a never-ending project. With Faraday, you're not just solving one energy problem – you are taking charge of your entire energy system, from production to storage to utilization and, of course, cost. Knock out steep utility energy costs, flatten spikes, maintain operations during utility outages.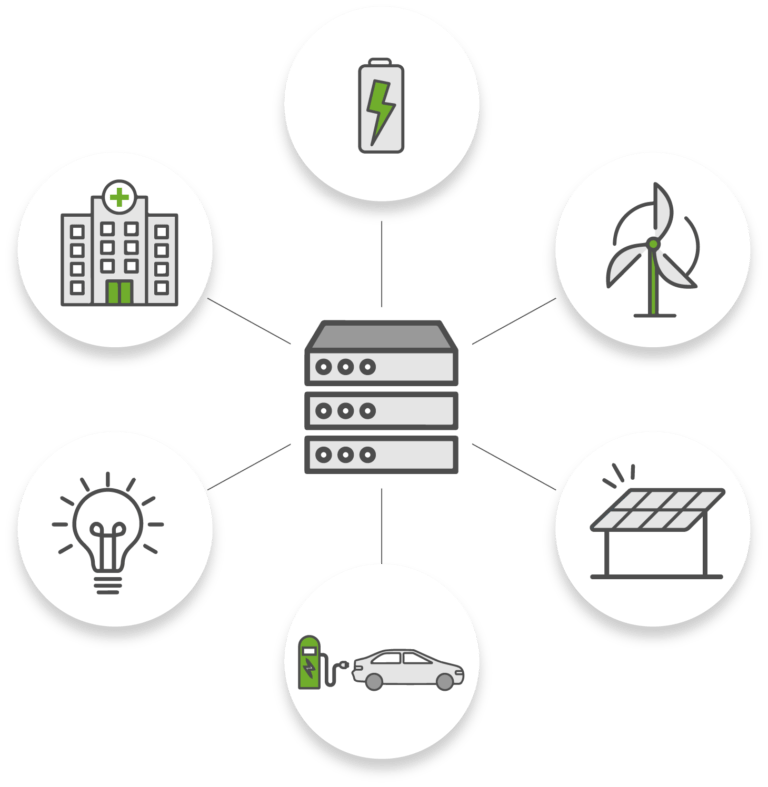 Install solar panels in underutilized spaces such as parking lots, roofs, and open land.

Solar panels generate power, which is stored in batteries and ready to be deployed.

Automated intelligent controls for optimal utilization to slash demand peaks and reduce overall facility usage.
What does this mean for you?
Say goodbye to equipment down time, delayed patient appointments, expensive power bills, and unreliable resources. 
With decades of experience in healthcare from our founder, Dr. David Bliss, Faraday has a deep understanding of both the objectives and challenges faced by healthcare organizations.
The highly specific constraints healthcare facilities are forced to operate within make them an excellent fit for the installation of a Microgrid. Faraday Microgrids target these three components of sustainability:
Economic Sustainability: Healthcare facilities tend to operate on very tight operating budgets, which exacerbates the difficulty of providing quality care. The savings generated from a Faraday microgrid will free up significant operating capital that can be redirected where it belongs: your patient's well being.
Operational Sustainability: Providing safe, continuous care to patients is of the utmost importance. The backup power and resiliency provided by a Faraday microgrid allows for the uninterrupted continuation of your facility's operation, even in the event of inevitable power outages.
Environmental Sustainability: As highly respected institutions in every community, Healthcare Facilities & providers are under the utmost pressure to adopt sustainable practices. Faraday microgrids meet and exceed the highest standards expected from both government agencies and also discerning stakeholders and consumers. A Faraday Microgrid is one of the most effective tools to achieve sustainable operations, helping to maintain a clean environment.

Ready to start a conversation about the benefits of microgrids to your facility? Click the link below to get your facility analyzed.
Most Sustainable Energy Projects Don't Check All the Boxes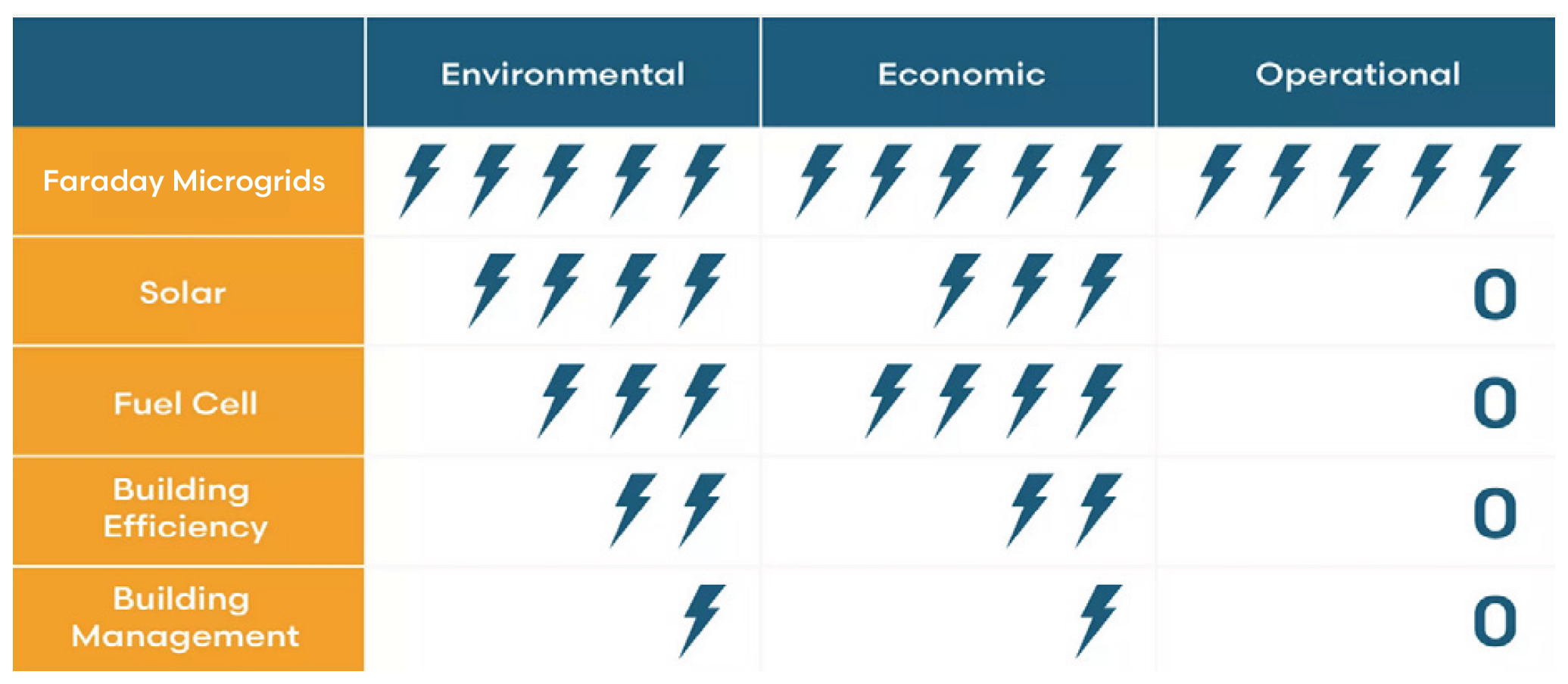 The question isn't, "Does your institution need renewable energy?" It's, "How can you get a renewable energy solution that meets the demands of your facility, your budget, and your stakeholders?"